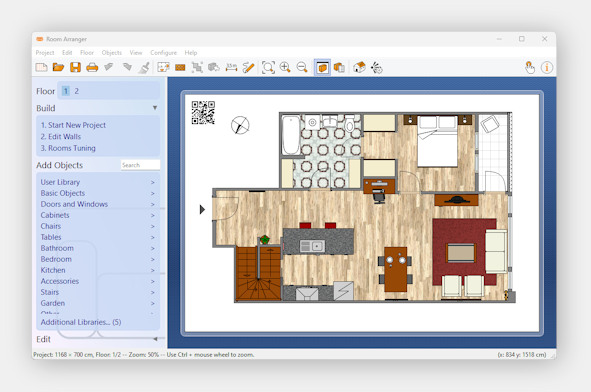 Room Arranger is 3D room / apartment / floor planner with simple user interface.
Once you get the basics, you can draw whatever you imagine.
Easy to Use
Room Arranger is small and compact piece of software. Still it lets you design nearly anything you imagine. Once you understand the basics it's easy to bring it to next level.
What's new: Release Notes
3D Visualization
3D can give you a better impression of your design. Room Arranger will not only let you fly around the scene, but you can also walk through it like in reality.
You can also have multiple floors in the single project.
Program runs on iPad, Macs with macOS 11+ and PCs with Linux and Windows 10 and 11.
Older system version?
Room Arranger uses Qt framework under LGPLv3 license.
"Fantastic! A Professional level program at shareware cost."